by Dave Sarkies
Since the introduction of Omnia.11 v 3.0 and G-Force at NAB 2016, there's been a lot of chatter – and a little confusion – in the industry as to the list of enhancements included in these packages. So perhaps we need to clarify what's going on. For starters, it's that word – packages; Omnia.11 v 3.0 and G-Force are two distinct items. To help clear things up, we went right to the man behind both v 3.0 and G-Force, Telos Alliance Senior Algorithm Developer Cornelius Gould.
"For starters," Cornelius explains, "it's important to note that version 3.0 is a free update to the Omnia.11 that gives users new features. It costs you nothing." While v 3.0 extends the capabilities of the 11, it also sets users up for optional paid upgrades moving forward. Cornelius puts it more succinctly, saying "3.0 is free, but it opens up the door to new possibilities."
So if these are two separate entities, what is included in 3.0?
Cornelius tells us there are some important audio processing enhancements, one of which is the ability to customize the bass response.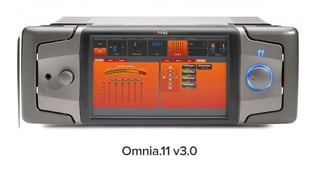 "You've got the ability to switch the fundamental sound of the bass enhancer with the Mode A / Mode B switch, which gives you some options. Mode B works great for country and oldies formats with more low end." Additionally, there's a change to the Solar Plexus feature. "We give you an option to alter the way Solar Plexus sounds with the subharmonic balance control. If you turn it all the way down it sounds like thunder, like in the original version." Cornelius explains this is an important improvement, as a number of people wanted to go back to the sound of the original thunder bass that existed in the previous version.
Another important aspect of v 3.0 is its impact on watermarking. Cornelius notes that version 3.0 is the first step into the Voltair insertion point that he presented on at last year's NAB.
"This is the first step in that direction, which allows you to take advantage of your audio processing to help with watermarking, whether you're using Voltair or not. You just insert the watermark device in the program loop of the Omnia.11, which gives the ability to use the audio processor to assist in watermarking of difficult material."
But that's not all where watermarking is concerned. Omnia.11 users will also have the ability to select whether or not to insert the audio watermark in their HD streams. You can include the main channel watermark on your HD stream, or, if you have a separate encoder, isolate your HD stream so you can do your own separate watermarking ID.
Finally, 3.0 features a built-in RDS encoder for radio text messaging and now playing information.
Beyond that, Cornelius tells us there are hooks that allow you to take your Omnia.11 to the next level with some paid options. So the big takeaway is that 3.0 provides a number of free features (still with the orange screen), but also sets users up for G-Force (with the slick cobalt blue screen), if they wish to pursue this major product enhancement.
Ir al sitio: The Telos Alliance
Deja tus comentarios