By Dave Sarkies
It was the typical FM studio layout of the day, Ed Bukont explains. Air, Production, News, and Tech Room all clustered at one end of the second floor of a two story office building. "I built the original facility at WMDM 97.7 the Rocket in approximately 1988." Three stations, under many hands, have been added in the meantime. "At some point, as the situation of the aggregate plant became untenable, someone suggested calling the guy who built the original place."
Ed did a site evaluation and found the production room had been cannibalized to keep station 2 operating, and stations 3 and 4 were using a witch's brew of equipment, some of which he had been partially involved in the installation of. Meantime, the rack room, which had grown from two to four (now six) racks, had suffered, in Ed's words, some very unfortunate feats of engineering.
Axia and AoIP are the Answer
After some deliberation, it was decided to make the move to Axia. "Fortunately, Roy Robertson, the owner of Somar Communications, has always been very astute with regard to the difference between the price of technology vs. the cost of technology," Ed says, emphasizing the distinction.  Fortunately, Axia xNodes and the scalability of the IQ console fit both the required specs and the budget."
Ed points out that the install was quite the project. "Having last seen the plant 10+ years ago, I didn't really know how long it had suffered. It appeared about a year prior to the call from ownership there was a downward turn in usability combined with an uptick in the cost of repair." Combine this with the fact that analog plants are at increased risk of unobtainable parts and service at any price, with no workaround, and it was time for an upgrade. In all, the project involved four IQ consoles attached to four QOR.32 Integrated Console Engines, Pathfinder, eight xNodes, and iProfiler.
"The initial install, covering the tech core, was done in about 30 days. The remainder took about eight months. We had to manage the integration over time, in small bites, rather than the repetitive weeks of agony typical in reworking a plant. We used the Axia system, without the consoles, to first replace most of the legacy wiring and routing in the tech core. At this point there was a major upset that would not have been possible to execute sanely without a networked product."
The reliability and flexibility of Axia gear makes life a lot easier too. Twice Ed and his team had to replace automation playback machines, which involved a good bit of complex routing,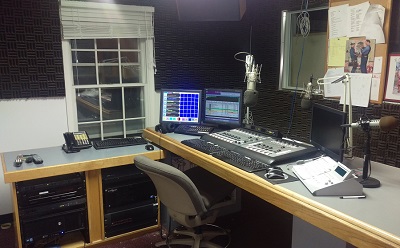 but it was nothing Pathfinder couldn't handle. "With a little creativity, I was able to have one of the systems show up on the old console and the new network at the same time. No loss of air time or content."
Speaking of Pathfinder, Ed gives similar Axia's audio routing software rave reviews as well. "While Pathfinder is not required to route audio, if you want access to the control protocols, you need Pathfinder. The staff has no idea about it, nor do they need to. It is a tool used in the background." Ed provides an example from the Somar installation. "There are about 15 scripts running in the background that make the magic happen. EAS, Live/Auto switching, STL source switching, silence alarms, profanity delay control, tally indications in each studio of what is feeding each station, all happen because of Pathfinder."
Thank You for Your Support
At one point during the Somar project, an attempt was made to consolidate automation in one platform, then revert back to two systems. According to Ed, the Telos Alliance Support team was essential to this portion of the project.
"Support played a vital role in assisting with a fluid integration as nodes that were put in studios to handle playback equipment were unplugged and moved to the tech room, then moved back to the studio, with the node staying in place, since some legacy wiring had been removed." The Axia Support team and a little creativity using structured wiring allowed the best of both worlds, with nodes using legacy wiring.
"Jeff McGinley, Bryan Jones, and the Telos / Axia Support team always follow-up and follow through. Few companies in broadcast are so overt in their support efforts. When they say 24/7 support, that's not marketing… That's fact." As a contractor, Ed needs Support to be there when it's convenient to his schedule and when it works around station activities, and says he always gets a timely response.
All the hard work paid off as the networked core went live nearly three months before the studios were converted, so the stations were using Livewire networking and xNodes several months before the IQ consoles and QORs were online. "Each studio took about 20-32 man hours to cutover, with a 2-3 man crew," Ed reports. "We took them off after their Friday show and had them back on over the weekend."
Ed says the staff adjusted to the move to Axia with relative ease, and points out the importance of the programming staff getting involved sooner rather than later. "I made sure-and this is one reason why you buy Pathfinder even in a small facility-that each station could play with their sources in the production room to get a feel for how it would work. Come cutover, where I expected issues, I had none. I don't think there have been any significant issues."

Assets of AoIP and Axia
Ed works with some using consoles that compete with Axia. As a result, he gets get to see what works from sale to install to expansion. But he points out the benefits of Axia over most other consoles. "One of the benefits of Axia consoles is that while some networked consoles require a full time PC connection, Axia does not. In a recent project, I used Axia nodes to link together several studios, because while one manufacturer had some interoperability, the other had none, nor an affordable upgrade path on a product that was purchased only three years earlier. xNodes allowed me to get audio in and out of each room and around the facility where substantial rewiring was not an option."
Similarly, in working on a variety of projects, Ed sometimes sees broadcast plants where networked audio gear is hardwired, defeating the purpose. "It boggles my mind when I see a networked product such as a Telos Z/IP ONE installed in place of a Marti receiver, or ISDN box, and then hard wired to the board. Why would you do that? It is a networked product!" Unfortunately many networked systems are still tied to the stack and rack mentality, instead of using the distributed approach of a network. "Axia fits the distributed model better than any other system of which I am aware, excepting some from Europe," Ed opines.
Ed provides an example. "I had a situation recently where I needed to entirely swap two studios. Using Axia, the old studio showed up in a new room, exactly as it was in the former. Even the jock was like, 'Wow, it's the same as it was!" No downtime related to the console."
So where's the disconnect for some manufacturers? Ed believes some try too hard to keep some allegiance to the analog world in building a digital or networked product, which may calm some jitters in the initial sale, but can provide a stumbling block later. "Who puts a hand crank on a hybrid car? Axia is the only pure networked console from a US manufacturer, connecting the control surface with literally one data cable. What can go over that cable does, what cannot, or should not, does not."
Ed points out that Telos and Axia have always pushed an open approach to AoIP, and Telos founder Steve Church was integral to the development of Audio over IP. "Almost 30 years ago, I had the pleasure of working directly with Steve. It's not a stretch to say that Steve brought the broadcast industry by the scruff of the neck and over the wall into the digital age. His words to me were, 'We are not engineers; we are artists in the application of science.' I remain a disciple of the church of Steve."
While moving to AoIP is the way to go, there is work involved, and a learning curve. For those new to AoIP, Ed provides a little advice. "Do not underestimate the amount of pre-work needed. While Support is great, planning and configuration take time. Read before you plan and purchase the product and peripherals. You're not going to get productive help, even with remote access, if you can't properly describe to Support what your plan is. Devise the IP and naming plan and stick to it. Allow the time and environment for planning and configuration, which may result in significant cost savings."
vía Telos Alliance
Deja tus comentarios