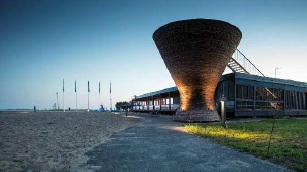 Since the AES67 standard was adopted in 2013, the AoIP landscape has become more robust and fluid. This interoperability standard ensures that AoIP gear from different manufacturers will work well together. Although we associate AES67 with broadcast infrastructure, the first project with the standard took place at Restaurant Nallikari in the Finnish city of Oulu, known as a hub for technology and wellness research. Jutel, also located there, completed the installation. Here, company founder and CTO Jorma Kivela explains how it all came about.
Jutel is a company normally associated with broadcast automation and digital radio solutions, most recently its RadioMan software, but as Kivela explains, they had experience with all the components of the project. "Jutel was founded in 1984, and back then our business involved installed sound systems. In the 1990s, we decided to concentrate on radio automation software, but also developed software for remote control. Jutel recently designed a system for a major national radio broadcaster which controls 200 codecs via an IP infrastructure. Also, the technology that routes audio around broadcast consoles is very similar to what is used to route audio to different zones in an installed sound system. Once the RAVENNA standard had been adopted, we were very anxious to do a pilot project to see how it would work in the real world."
As a happy coincidence, Restaurant Nallikari was undergoing a major renovation at the time. It is an unusual venue in that it combines a modern and completely modular space for restaurant services for up to 250 people, with eight separate meeting/private event zones. There are also spa facilities for up to 60 people, as well as an outdoor Jacuzzi. "We had some discussions with the owners about doing an all-IP, AES67/RAVENNA-based installed audio system. They liked the idea, so it seemed like a suitable place for a pilot project," explains Kivela.
The design specifications were for an installation where any audio source can route to any speaker. Additionally, guests had to be able to use their own devices – laptops, tablets or smartphones, along with their own content, so that meetings can accommodate individual needs and requirements.
Plans for the beach restaurant included 34 IP loudspeakers, seven distinct zones, integration with video screens, the ability to handle both analog and digital sources, and full control of the system via a tablet. Since it is an IP-based system, there is complete flexibility to expand the number of devices and the network in the future.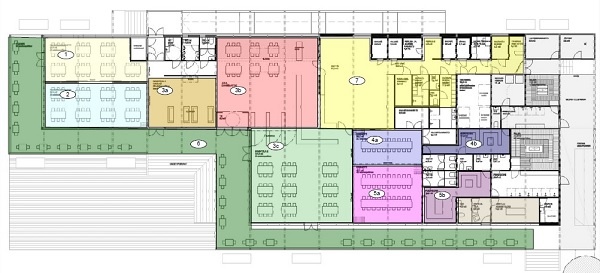 "Putting the theory into practice took a lot of work, particularly with the network configuration and timing."

—Jorma Kivela, Jutel co-founder and CTO
At the heart of the installation is the Jutel HIPman Hieararchical IP Audio Management system. It ingests all 15 sources, including TV, radio, HDMI audio and video feeds, wireless microphones, and a Jutel RadioMan playout system. ALC Networx provided its Virtual Soundcard technology to encode the audio into IP streams before being sent out onto the network. Telos supplied the xNodes, which enabled some of the source equipment to interface with the AoIP network. For this project, Genelec prototyped and developed the first AoIP-enabled loudspeaker, the RAVENNA/AES67 loudspeaker, equivalent to the current 8430A-IP.
Even though the standard had been introduced a bit earlier, the Restaurant Nallikari project was still a challenge. "Every aspect was new. Putting the theory into practice took a lot of work, particularly with the network configuration and timing. If we were to do the same project today, it would be so much simpler because we have more experience and AES67 is more mature."
via Telos Alliance
Deja tus comentarios